In the world of reality TV, few stories have captured the hearts of fans quite like Hannah Brown's journey to find love.
From her time on "The Bachelorette" to her current relationship, every twist and turn has been under the spotlight. But who is Hannah Brown dating now?
Enter Adam Woolard, the man who has not only captured Hannah's heart but has also become a topic of intrigue for fans worldwide.
In this comprehensive article, we'll explore their love story, from their first meeting to their recent engagement, and everything in between.
Table of Contents
The Early Days: Sparks in Nashville
First Sightings and Rumors
It was early 2021 when eagle-eyed fans first spotted Hannah Brown and Adam Woolard together in Nashville. The duo, seemingly in the early stages of their relationship, was seen enjoying each other's company, sparking rumors of a budding romance.
By the time Valentine's Day rolled around, the couple decided to go Instagram official, confirming what many had suspected.
Also see: Are Peso Pluma and Nicki Nicole Dating?
Adam Woolard: Unveiling the Man Behind the Model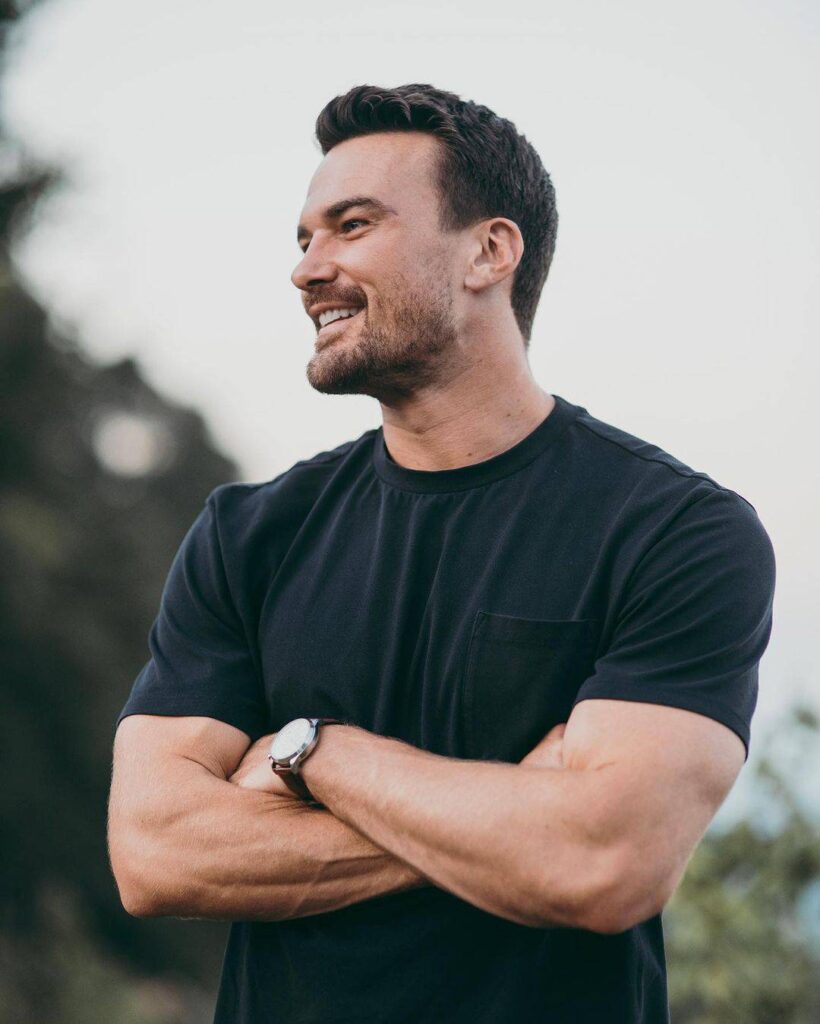 Educational Background and Career
Adam is not just a pretty face. He boasts an impressive educational background, having earned a Bachelor of Science degree in both business administration and finance from the University of Arkansas. Furthering his academic pursuits, he secured an MBA from Lipscomb University in Nashville. But what does he do for a living?
Woolard has worn many hats. From working as a concierge banker and treasury specialist at Avenue Bank to his current role as a private client sales director for the luxury fashion label, Greg Lauren. On top of that, he's a meditation and lifestyle coach, guiding others in their personal journeys.
The Modeling World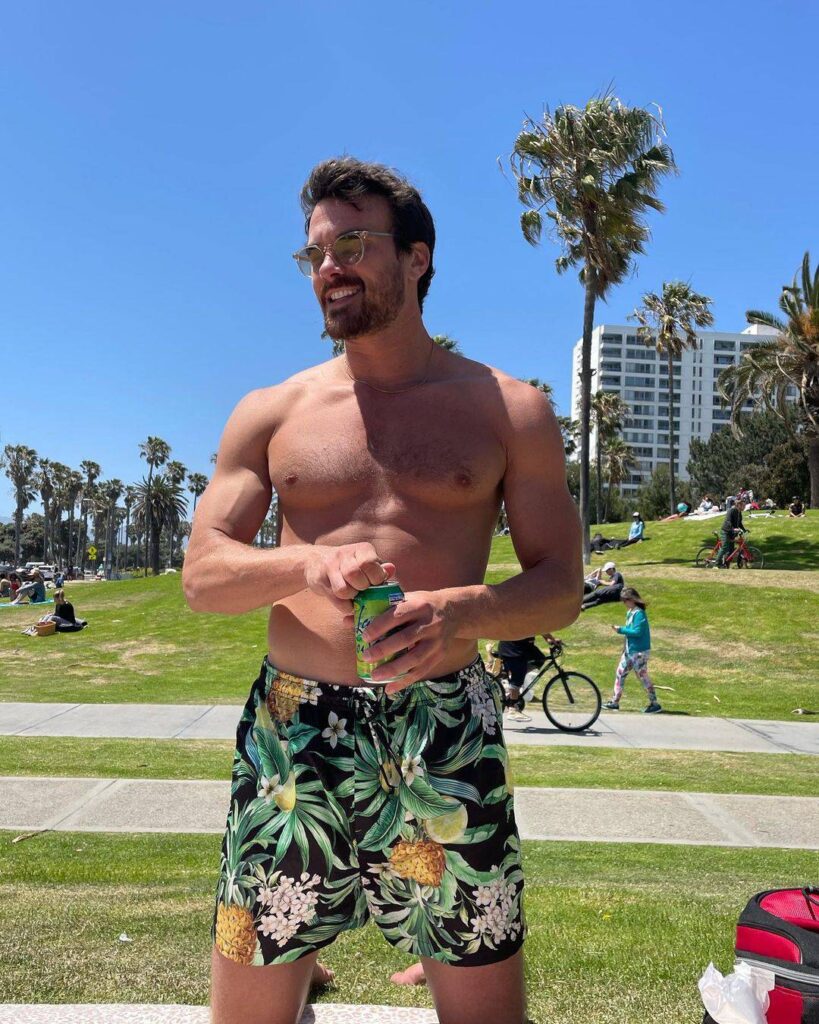 Adam's chiseled features and keen fashion sense have also led him to the world of modeling. Represented by top modeling agencies, he's graced various campaigns and has even posed for an E-Harmony campaign. Standing at 6-foot-1, with captivating brown hair and hazel eyes, it's no wonder he's made a mark in the modeling world.
You might also like: Who Is Tooturnttony & What Is His Net Worth? Everything You Need To Know!!
Hannah and Adam's Love Timeline
| Aspect | Details |
| --- | --- |
| Full Name | Hannah Brown |
| Age | 28 |
| Known For | The Bachelorette, Season 15 |
| Current Relationship Status | Engaged to Adam Woolard |
| Engagement Date | August 28, 2023 |
| Boyfriend's Profession | Model, Sales Director, Meditation Coach |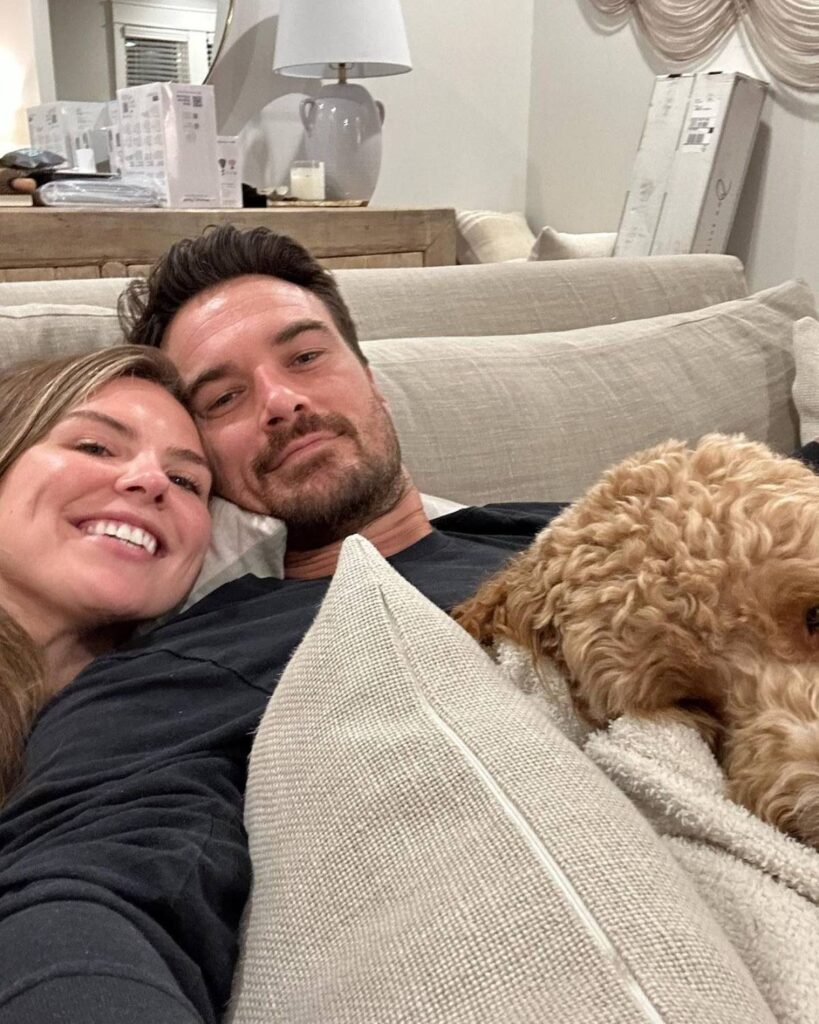 Moving In and Making Memories
The couple's relationship quickly progressed, with them moving in together in the Los Angeles area. Their shared moments, from adopting a labradoodle named Wally to showcasing their life on social media, gave fans a glimpse into their genuine connection.
By March 2023, the couple took a significant step, relocating to Nashville, Tennessee, marking a new chapter in their love story.
The Proposal: A Night to Remember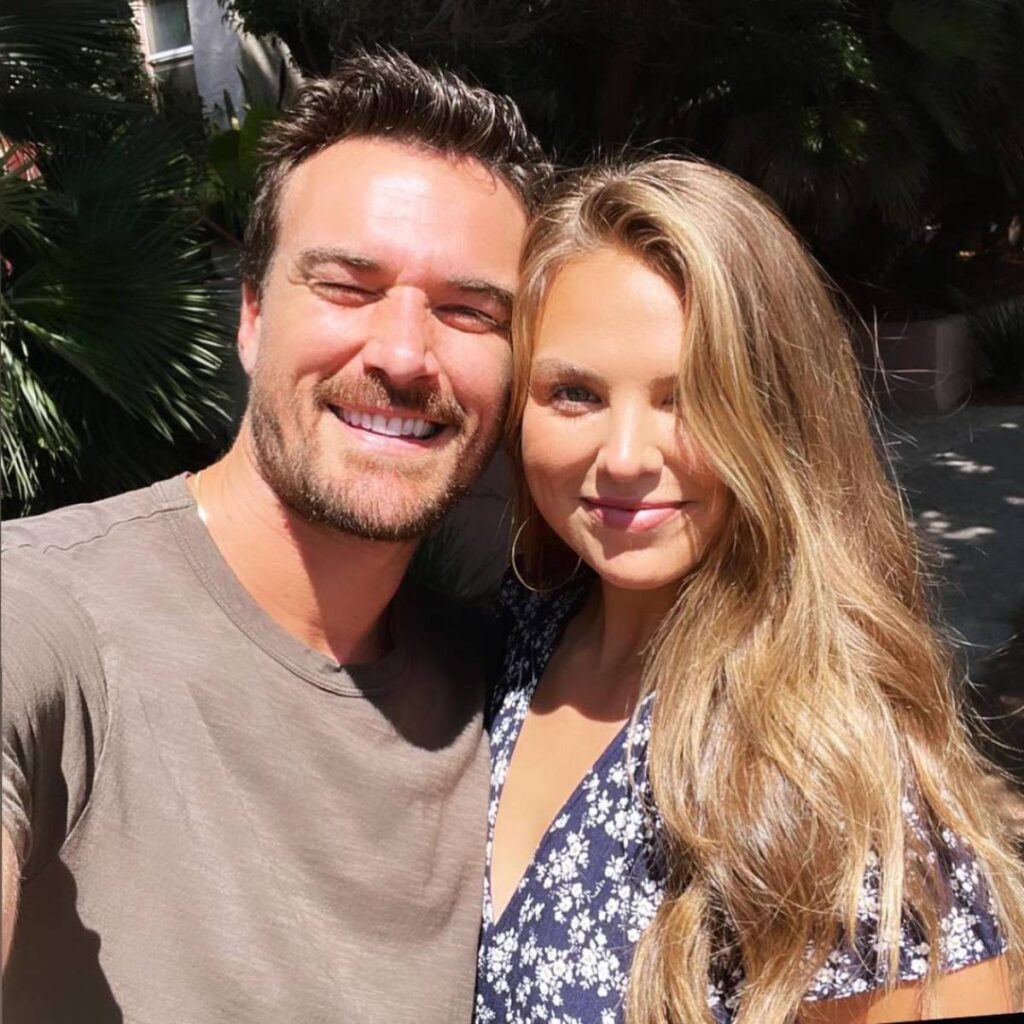 August 28, 2023, is a date that will forever be etched in their love story. Adam, in a setting straight out of a fairy tale, surrounded by rose petals, string lights, and candles, got down on one knee and proposed to Hannah.
The engagement ring, a stunning three-stone piece, symbolizes their past, present, and future. The central stone, representing their current phase, signifies the depth and strength of their love.
Bachelor Nation's Reaction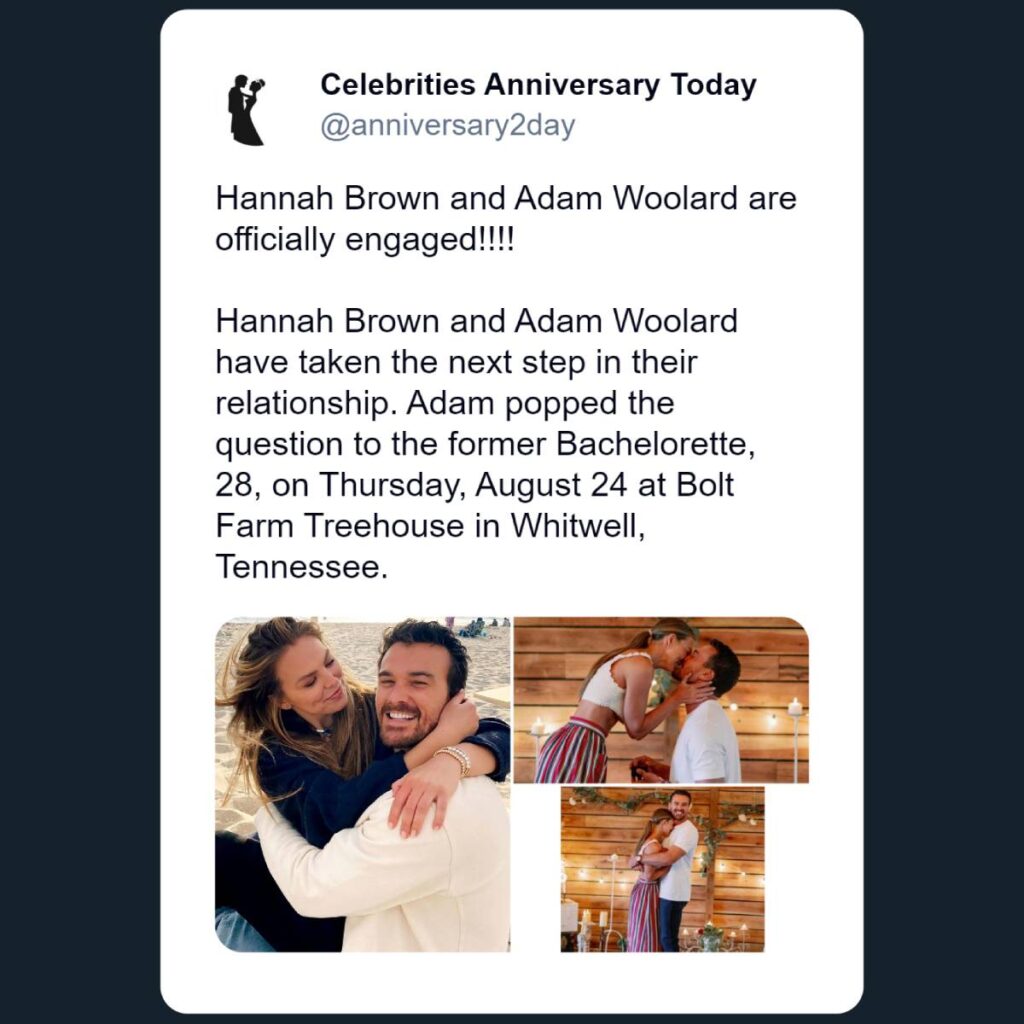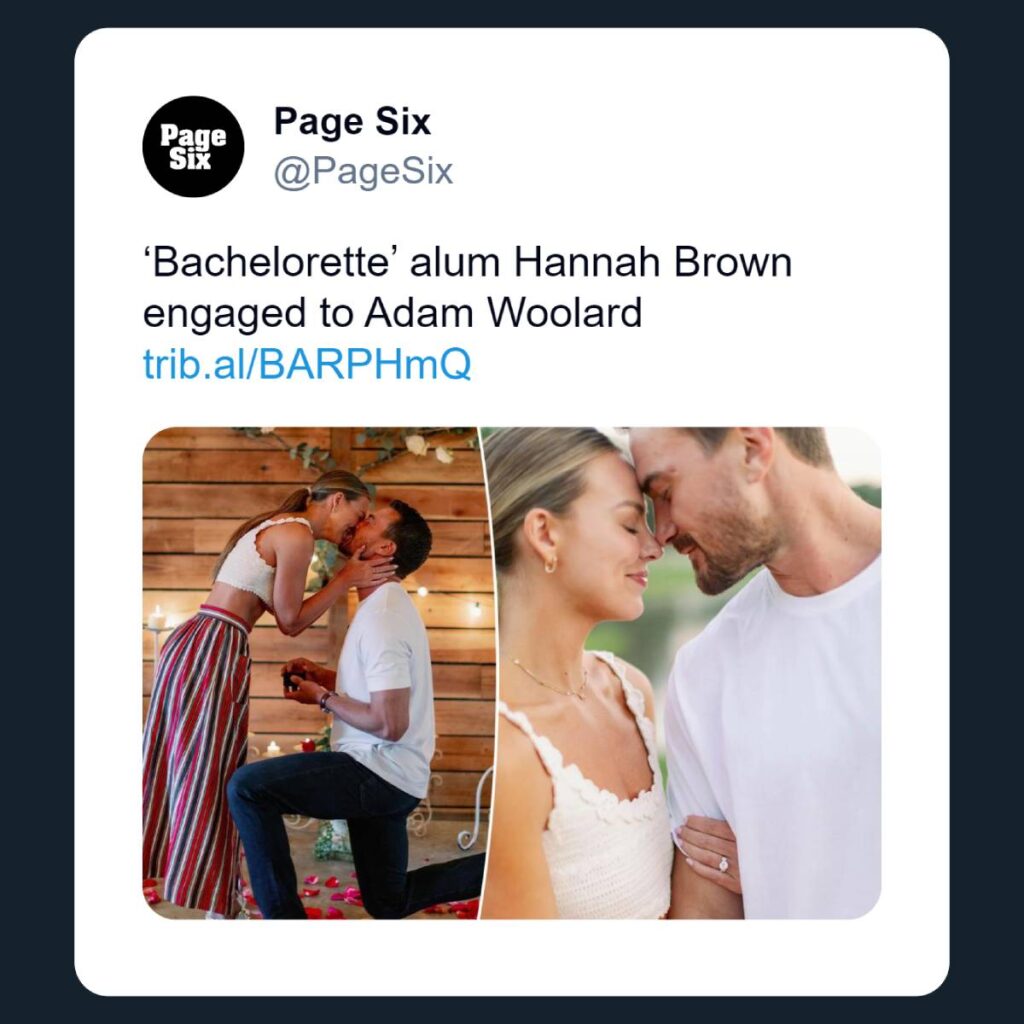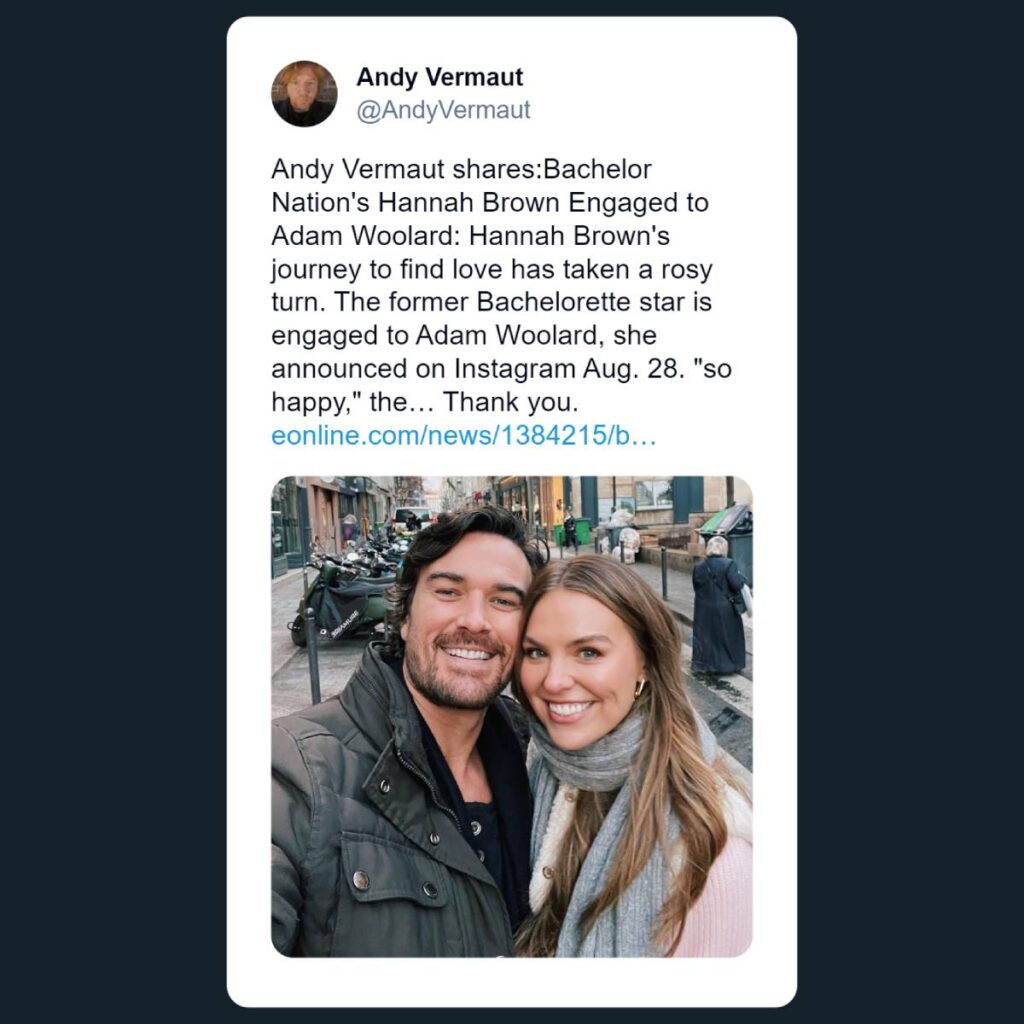 The news of their engagement was met with a wave of support and love from fellow Bachelor Nation stars. From congratulatory messages to expressions of excitement, the couple's joy was shared by many.
Looking Ahead: Future Plans and Aspirations
With their engagement now public, fans are eagerly awaiting the next steps for the couple. As they settle into their life in Nashville, there's much anticipation about wedding plans, future endeavors, and what lies ahead for the duo.
Also see: Who Is Claudia Sampedro (Julius Peppers Wife)? Everything You Need To Know
Conclusion
Hannah Brown and Adam Woolard's love story serves as a testament to finding genuine love in the most unexpected places. Their journey, filled with love, understanding, and commitment, resonates with many, proving that sometimes, fairy tales do come true.