In the world of late-night television, Stephen Colbert is a name that resonates with millions. His wit, humor, and incisive commentary have made "The Late Show with Stephen Colbert" a staple for many. But behind this comedic genius is a strong, supportive force: his wife, Evelyn McGee-Colbert.
While Stephen's life is an open book, Evelyn remains a fascinating enigma to many. Who is this woman who captured the heart of one of television's most beloved personalities?
Dive in as we unravel the tapestry of Evelyn's life, her journey with Stephen, and the love story that has captivated audiences.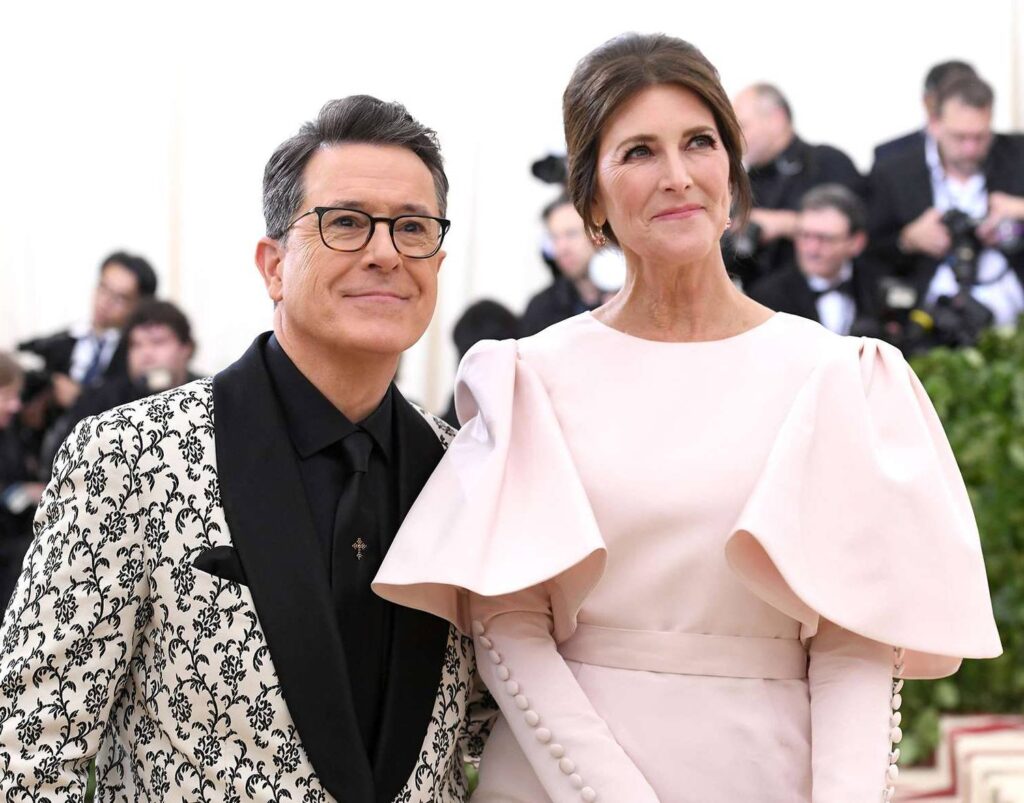 Table of Contents
The Early Years: Who is Evelyn McGee-Colbert?
Evelyn McGee-Colbert was born on July 23, 1963, in Charleston, South Carolina. The daughter of a prominent politician and civil litigator, Joseph H. McGee Jr., Evelyn grew up in an environment that valued education and public service. After completing her high school studies, she pursued her passion for the arts, enrolling at the University of Virginia's College of Arts and Sciences.
Here, she majored in both English and Drama, laying the foundation for her future endeavors in the world of entertainment.
Evelyn's Foray into Acting
While many recognize Evelyn primarily as Stephen Colbert's wife, she is an accomplished actress in her own right. After graduating from university, Evelyn began seeking acting opportunities. Her talent shone through at the Heritage Repertory Theatre, where she honed her skills before transitioning to commercial productions.
Evelyn's acting journey saw her take on roles in popular projects like "Strangers with Candy," where she not only showcased her acting prowess but also shared screen space with her husband, Stephen.
Her versatility as an actress was further highlighted with appearances in "Oprah's Next Chapter" and the high-grossing movie "The Hobbit: The Desolation of Smaug."
A Love Story for the Ages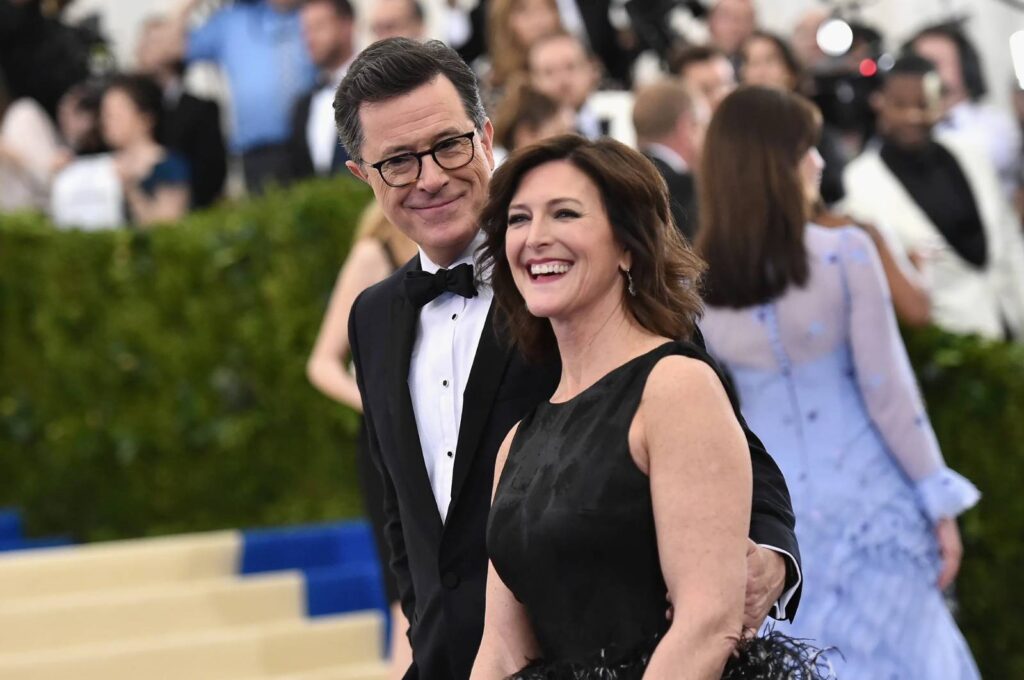 Stephen and Evelyn's love story is the stuff of legends. The two first crossed paths at the Spoleto Festival. Despite growing up in the same area and being aware of each other's families, their paths had never really converged until that fateful day. Stephen, captivated by Evelyn in her black linen dress, felt an instant connection.
Their conversation at the festival's after-party revealed their shared past, and the rest, as they say, is history. The couple tied the knot on October 9, 1993, marking the beginning of a beautiful journey together.
Also read: Meet Orlando Brown's Wife, Danielle Brown – Here's Everything You Need To Know About Her!
Life Beyond the Limelight
While Stephen's career skyrocketed, making him a household name, Evelyn chose a more reserved path. Despite her acting credentials, she often stayed away from the limelight, focusing on her family and personal growth.
The couple has three children: Madeline, Peter, and John. These children have been a testament to Stephen and Evelyn's strong bond, with Stephen often sharing anecdotes about his family life on his show.
Evelyn's grounded nature and strong sense of self have undoubtedly played a significant role in keeping their family close-knit, especially given the demands of Stephen's career. Their more than two-decade-long marriage stands as a testament to their commitment and love for each other.
Evelyn and Stephen: A Partnership Beyond Marriage
Beyond their marital bond, Stephen and Evelyn have also collaborated professionally. They've appeared together in various projects, showcasing their undeniable chemistry. One of the most notable collaborations is their joint venture, Spartina Productions.
This production house, founded by Stephen, saw both him and Evelyn as principals, working together to produce television and streaming content.
The Essence of Evelyn McGee-Colbert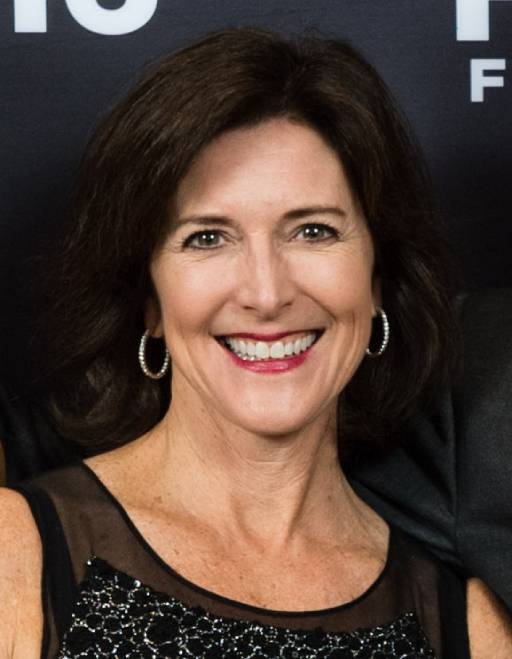 Evelyn is more than just "Stephen Colbert's wife." She's a talented actress, a loving mother, and a strong-willed individual who has carved her own path. Her journey, intertwined with Stephen's, showcases a partnership built on mutual respect, love, and understanding.
FAQs about Evelyn McGee-Colbert
When did Stephen and Evelyn get married?
Stephen and Evelyn tied the knot on October 9, 1993.
How did Stephen and Evelyn meet?
The couple first met at the Spoleto Festival and reconnected at the festival's after-party.
Do Stephen and Evelyn have children?
Yes, they have three children: Madeline, Peter, and John.
Is Evelyn McGee-Colbert an actress?
Yes, Evelyn is an accomplished actress and has appeared in several movies and TV shows.
What is Spartina Productions?
Spartina Productions is a production house founded by Stephen Colbert, with both him and Evelyn serving as principals.
Where did Evelyn study?
Evelyn pursued her higher education at the University of Virginia's College of Arts and Sciences.
---
In Conclusion: Celebrating Evelyn McGee-Colbert
In a world where celebrity marriages often make headlines for the wrong reasons, Stephen and Evelyn's enduring relationship stands out as a beacon of hope. Evelyn McGee-Colbert, with her grace, talent, and unwavering support for her family, has been an integral part of Stephen's life, both personally and professionally.
While many might recognize her as the wife of a television icon, Evelyn's identity goes beyond that. She's a testament to the fact that one can strike a balance between personal aspirations and familial responsibilities. Her journey, from her early years in Charleston to her life in the spotlight alongside Stephen, is a story of determination, love, and resilience.
As fans continue to adore Stephen for his comedic genius, it's essential to acknowledge the strength and support system behind him. Evelyn McGee-Colbert is not just the woman beside the man; she's a force in her own right, deserving of admiration and respect.