While the world is enamored by the cinematic brilliance of Timothée Chalamet, few are acquainted with the man behind the prodigy, his father, Marc Chalamet.
A French-American writer and editor, Marc's life is a tapestry of achievements, passions, and dedication, both to his profession and his family.
Table of Contents
| Attribute | Information |
| --- | --- |
| Full Name | Marc Chalamet |
| Birth Year | 1953 |
| Birthplace | Nimes, France |
| Profession | Editor, Writer, Freelance Journalist |
| Marital Status | Married to Nicole Flender |
| Children | Pauline Chalamet, Timothée Chalamet |
| Current Role | Editor at the United Nations |
The Early Days: A French Connection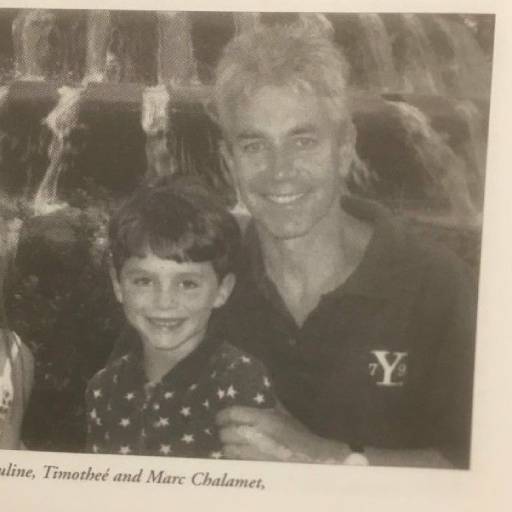 Born in 1953 in the picturesque town of Nimes, France, Marc Chalamet was the offspring of Roger Jacques Chalamet, a Protestant minister, and Jean Ashworth. Growing up amidst the rich culture and history of France, Marc's academic pursuits led him to the esteemed Institut d'Etudes Politiques de Lyon, where he graduated in 1976 with a degree in Political Science.
Don't Miss: Craig Hemsworth: The Man Who Raised Thor
The Professional Journey: From France to the UN
Marc's career trajectory is a testament to his adaptability and vast skill set. Initially embarking on a teaching journey, he served as a French instructor at the French Institute Alliance Franchise (FIAF) in New York from 1977 to 1980.
But the world of news and photo editing beckoned, and Marc heeded the call, working in both France and New York until 1983.
His entrepreneurial spirit shone when he founded News of America, leading the company for 13 years. However, his most notable professional stint has been with the United Nations. Starting as a writer and editor for UNICEF in 2000, Marc's commitment to advocating for children's rights was evident.
Since 2019, he has been serving the United Nations as an editor, writer, and translator, while also juggling freelance journalism since 2016.
Family Ties: The Chalamet Legacy
Marc's personal life is as enriching as his professional one. Married to Nicole Flender, a real estate broker with a background in acting, the couple is blessed with two children, Pauline and Timothée.
While Pauline has made her mark in films like "The King of Staten Island", Timothée's accolades in movies like "Call Me by Your Name" and "Dune" are globally recognized.
FAQs
Who is Marc Chalamet?
Marc Chalamet is a French-American writer, editor, and the father of renowned actor Timothée Chalamet.
What is Marc Chalamet's profession?
He is an editor, writer, and translator, currently serving the United Nations. He has also been a freelance journalist since 2016.
Where was Marc Chalamet born?
He was born in Nimes, France, in 1953.
Is Marc Chalamet married?
Yes, he is married to Nicole Flender, and they have two children, Pauline and Timothée.
How is Marc Chalamet related to Timothée Chalamet?
Marc is Timothée's father.
What is Marc Chalamet's net worth?
While the exact figure is not publicly disclosed, it's estimated to be between $1 million and $3 million.
Conclusion
Marc Chalamet's life is an inspiring tale of dedication, hard work, and passion. While his son Timothée might be stealing the limelight on the silver screen, Marc's contributions, both professionally and as a supportive parent, cannot be understated.
If you found this article enlightening, please share it and explore related content to dive deeper into the world of the Chalamets.